Introducing our revolutionary LED Spider Grow Lights, the ultimate solution for indoor gardening and plant cultivation. Designed with cutting-edge technology and advanced features, these lights provide optimal conditions for your plants to thrive and reach their full potential.
Our LED Spider Grow Lights feature a unique spider-shaped design, with multiple adjustable arms and individual light panels. This innovative design ensures that every corner of your garden receives uniform and balanced lighting, promoting even growth and maximum yield. Whether you have a small home garden or a larger commercial setup, these lights can be customized to fit your space perfectly.
Equipped with high-quality LED chips, our Spider Grow Lights emit a full spectrum of light that closely mimics natural sunlight. This spectrum includes all the necessary wavelengths for plants' photosynthesis, ensuring healthy growth throughout all stages of plant development. From seedling to flowering, these lights provide the ideal lighting conditions for your plants, resulting in faster growth, increased yields, and vibrant, luscious foliage.
With energy efficiency in mind, our LED Spider Grow Lights consume significantly less power compared to traditional lighting systems. This not only reduces your electricity bills but also contributes to a more sustainable and eco-friendly gardening experience. The lights are designed to generate minimal heat, eliminating the risk of scorching or damaging your plants. This allows you to keep the lights closer to your plants without worrying about heat stress.
Whether you're a seasoned gardener or just starting out, our LED Spider Grow Lights provide the perfect solution for achieving healthy, vigorous plants year-round. Experience the power of advanced lighting technology and take your indoor gardening to new heights with our LED Spider Grow Lights.
Click to view Ordering Matrix
All parts of Spider Grow Light are covered for 7 years, including the LED driver.
Superior Heat Dissipation
Extruded aluminum body is exceptional at moving thermal energy. Plus, the aesthetics are modern and attractive.
Maverick LED driver with 0-10V dimming.
Plus motion and dimming sensors, photocell and wireless controls available.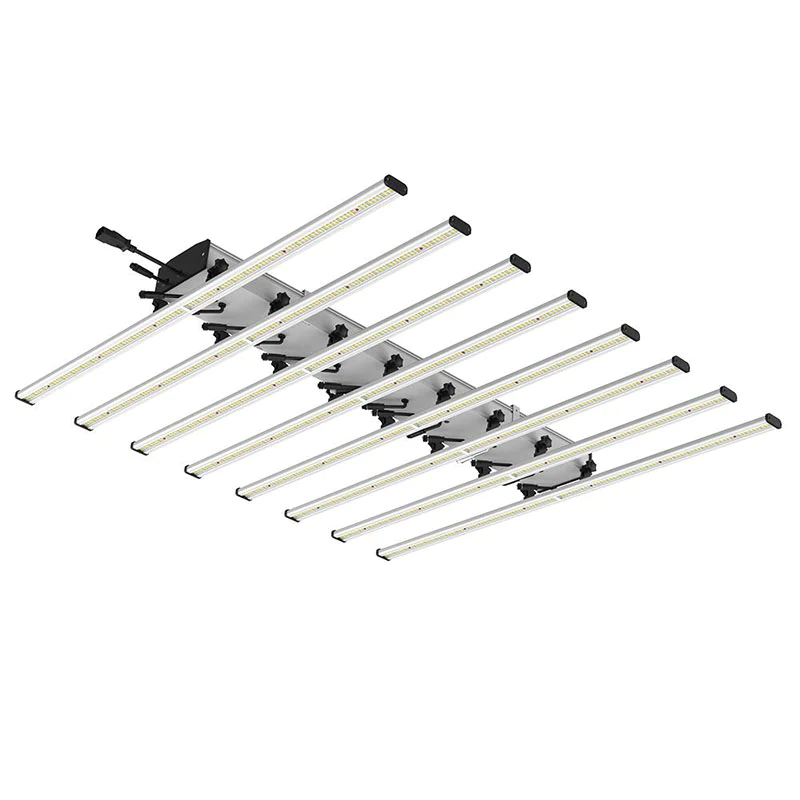 Revolutionary spider-shaped design with adjustable arms and individual light panels
Provides uniform and balanced lighting to every corner of your garden
Full spectrum LED chips mimic natural sunlight for optimal plant growth
Promotes faster growth, increased yields, and vibrant foliage
Energy-efficient, consuming less power compared to traditional lighting systems
Minimal heat generation eliminates the risk of plant damage

Lightweight and durable design for long-lasting performance
100-277V or 200-480V (50/60Hz), typical, depending on model.
Power Factor: Greater than 0.9 (0.99 typical).
Total Harmonic Distortion: Less than 10%.
Standard is 3kV for LED drivers. Additional surge protection of 10kA and 20kA available as options.
It has a Life Span of over 70,000 hours
5-Year Limited Product Warranty
(Optional 10-Year Warranty available)
Listings & Certifications