LED Vapor Tight Fixture (Hazel GSR)
Introducing the LED Vapor Tight Fixture (Hazel GSR) — a cutting-edge lighting solution designed to excel in hazardous environments. This high-performance fixture combines the efficiency and longevity of LED technology with the durability needed for demanding industrial applications.
Equipped with energy-efficient LED modules, this high bay light delivers exceptional brightness while significantly reducing energy consumption. Its advanced optics provide uniform illumination with minimized glare, enhancing visibility and safety in hazardous environments.
Not only does the LED Vapor Tight Fixture offer superior performance, but it also boasts an extended lifespan, minimizing maintenance costs and downtime. With a rated lifespan of thousands of hours, this lighting solution provides long-lasting reliability and consistent illumination.

Upgrade your hazardous environment lighting to the LED Vapor Tight Fixture (Hazel GSR) for unrivaled durability, energy efficiency, and superior light output. Experience peace of mind knowing your facility is well-lit and protected with this exceptional lighting solution.
Click to view Ordering Matrix
All parts of Hazel GSR are covered for 7 years, including the LED driver.
Superior Heat Dissipation
Extruded aluminum body is exceptional at moving thermal energy. Plus, the aesthetics are modern and attractive.
Maverick LED driver with 0-10V dimming.
Plus motion and dimming sensors, photocell and wireless controls available.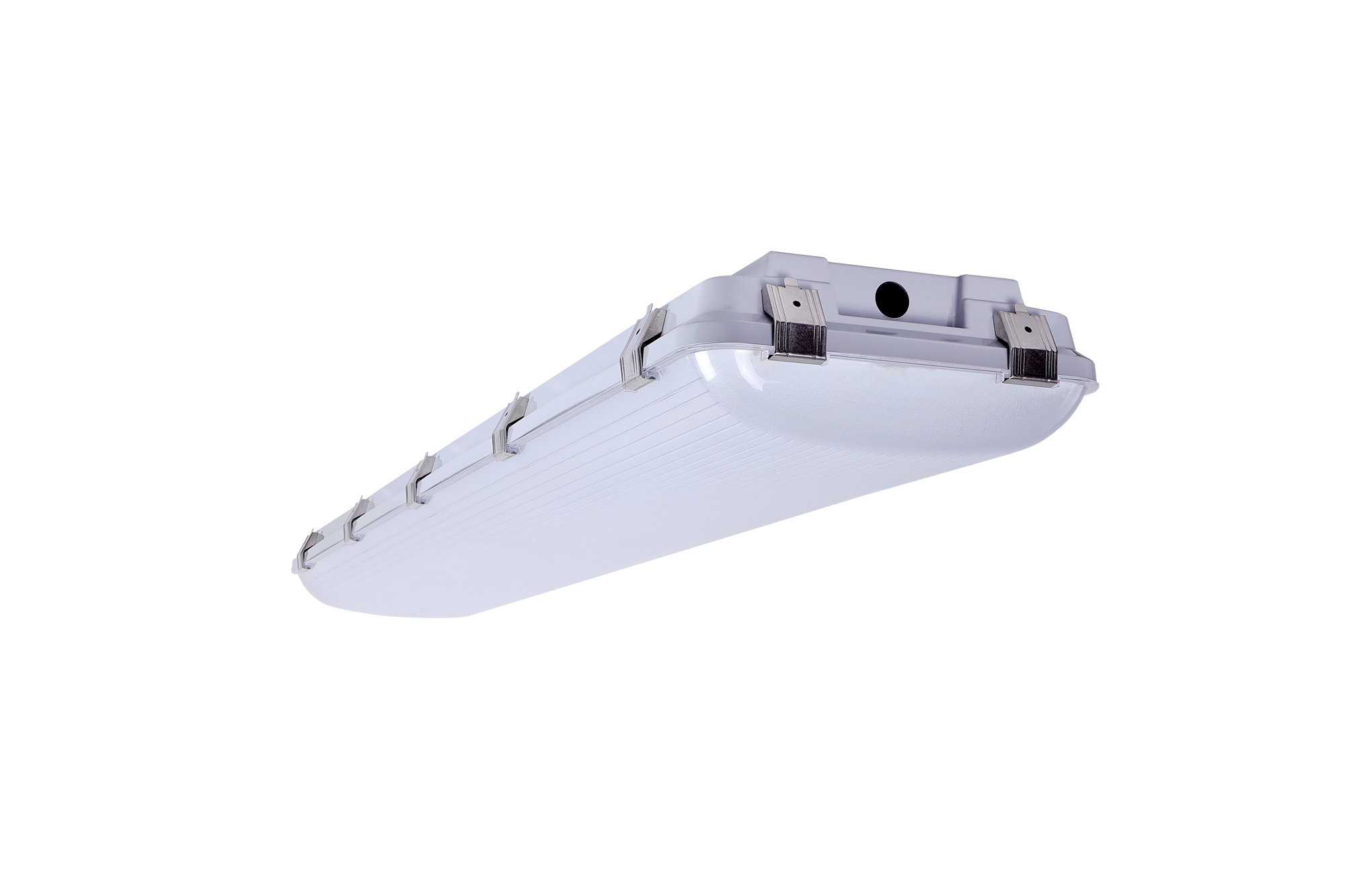 Designed for high bay lighting applications, ideal for warehouses, factories, and industrial environments.

Durable construction with a vapor tight housing to protect against dust, moisture, and corrosion.



High lumen output for bright and uniform illumination over large areas.
Advanced optics to minimize glare and provide better visibility.

Compatible with dimming controls for added lighting flexibility.



Instant-on feature for immediate full brightness without warm-up time.
Environmentally friendly with no harmful emissions and recyclable components.
120-277V or 200-480V (50/60Hz), typical, depending on model.
Power Factor: Greater than 0.9 (0.99 typical).
Total Harmonic Distortion: Less than 10%.
Standard is 3kV for LED drivers. Additional surge protection of 10kA and 20kA available as options.
CCT: 3500K, 4000K & 5000K standard.
CRI: > 80
Lenses: UV stable clear polycarbonate.

It has a Life Span of over 70,000 hours
7-Year Limited Product Warranty
(Optional 10-Year Warranty available)
Listings & Certifications