LED Canopy Fixture (Hercules GSR)
Introducing the LED Canopy Fixture (Hercules GSR), the ultimate lighting solution for commercial and industrial spaces. This high-quality fixture combines cutting-edge LED technology with a sleek and durable design, ensuring superior performance and energy efficiency.
The LED Canopy Fixture (Hercules GSR) offers a powerful illumination that brightens up large areas with ease. Whether it's outdoor canopies, parking structures, gas stations, or other covered spaces, this fixture provides exceptional visibility and enhances safety for customers and employees alike.
Say goodbye to outdated and inefficient lighting systems. Upgrade to the Hercules GSR and experience brilliant illumination, exceptional energy savings, and unmatched longevity. Illuminate your space with confidence and style, backed by the reliability of LED technology.

Click to view Ordering Matrix

All parts of Hercules GSR are covered for 7 years, including the LED driver.
Superior Heat Dissipation
Extruded aluminum body is exceptional at moving thermal energy. Plus, the aesthetics are modern and attractive.
Maverick LED driver with 0-10V dimming.
Plus motion and dimming sensors, photocell and wireless controls available.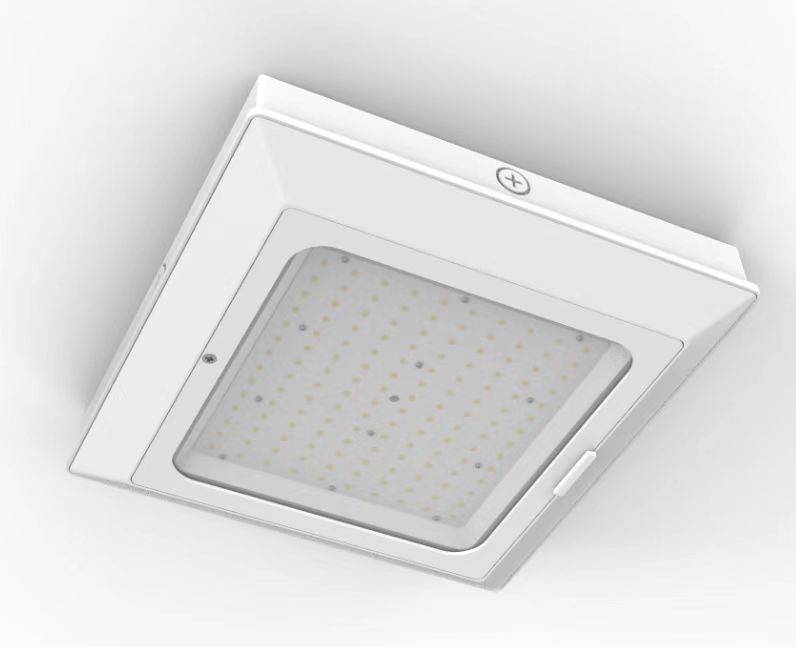 Utilizes premium LED technology for efficient and reliable illumination.
Delivers powerful and uniform light distribution, ensuring excellent visibility and enhanced safety.
Consumes minimal energy, resulting in significant energy savings and reduced operating costs.

Constructed with weather-resistant materials, making it suitable for outdoor use and resistant to harsh environmental conditions.

Offers dimming capabilities to adjust the light intensity as needed, providing flexibility in lighting control.

Offers a wide beam angle, ensuring ample coverage and eliminating dark spots in large areas.



Available in various color temperatures and finishes, allowing customization to match aesthetic preferences and lighting requirements.
120-277V or 200-480V (50/60Hz), typical, depending on model.
Power Factor: Greater than 0.9 (0.99 typical).
Total Harmonic Distortion: Less than 10%.
Standard is 3kV for LED drivers. Additional surge protection of 10kA and 20kA available as options.
CCT: 3000K, 4000K & 5000K standard.
CRI: > 80
Lenses: UV stable clear polycarbonate.
It has a Life Span of over 70,000 hours
7-Year Limited Product Warranty
(Optional 10-Year Warranty available)
Listings & Certifications