DC Powered BLE PIR Occ Control w/ Daylight Harvesting White For QSR Fixtures (MES)
Introducing the DC Powered BLE PIR Occ Control with Daylight Harvesting in White, designed specifically for QSR (Quick Service Restaurant) fixtures. This cutting-edge product combines advanced technology with energy efficiency, making it an ideal solution for enhancing lighting control in fast-paced restaurant environments.
The DC Powered BLE PIR Occ Control utilizes Bluetooth Low Energy (BLE) technology, enabling seamless wireless communication between the control unit and compatible devices. This allows for easy integration with existing lighting systems, providing a hassle-free installation process.
Equipped with a Passive Infrared (PIR) sensor, this control unit detects occupancy within its range, intelligently adjusting the lighting accordingly. This feature ensures that lighting is activated only when needed, optimizing energy consumption and reducing operational costs. It is particularly beneficial in QSR establishments where lighting needs to be responsive and efficient.
Moreover, the Daylight Harvesting feature utilizes the built-in sensor to monitor ambient light levels. By leveraging natural daylight, the control unit automatically adjusts the artificial lighting output, maintaining an optimal level of illumination while minimizing energy wastage. This not only saves on electricity expenses but also creates a comfortable dining environment for customers.
The DC Powered BLE PIR Occ Control offers customizable settings, allowing users to fine-tune the sensitivity, timeout duration, and other parameters according to specific requirements. Additionally, it supports remote control through a mobile app, providing convenient access to real-time monitoring and adjustment of lighting settings.
In summary, the DC Powered BLE PIR Occ Control with Daylight Harvesting in White is a versatile and intelligent solution for QSR fixtures. With its advanced features, seamless integration, and energy-saving capabilities, it enhances lighting control, reduces costs, and contributes to a more sustainable restaurant operation. Upgrade your QSR lighting system today and experience the benefits of this innovative product.
All parts of BLE PIR Occ Control are covered for 5 years, including the LED driver.
Superior Heat Dissipation
Extruded aluminum body is exceptional at moving thermal energy. Plus, the aesthetics are modern and attractive.
Maverick LED driver with 0-10V dimming.
Plus motion and dimming sensors, photocell and wireless controls available.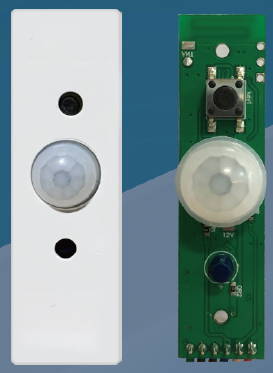 DC powered control unit designed specifically for Quick Service Restaurant (QSR) fixtures.
Incorporates Bluetooth Low Energy (BLE) technology for seamless wireless communication.
Passive Infrared (PIR) sensor detects occupancy, activating lighting only when needed.
Daylight Harvesting feature adjusts artificial lighting output based on ambient light levels.
Optimizes energy consumption and reduces operational costs.
Compact design and flexible mounting options for easy installation.

Supports remote control through a mobile app for convenient monitoring and adjustment.




Contributes to a more sustainable and efficient QSR operation.



100-277V or 200-480V (50/60Hz), typical, depending on model.
Power Factor: Greater than 0.9 (0.99 typical).
Total Harmonic Distortion: Less than 10%.
Standard is 3kV for LED drivers. Additional surge protection of 10kA and 20kA available as options.
It has a Life Span of over 50,000 hours
5-Year Limited Product Warranty
(Optional 10-Year Warranty available)
Listings & Certifications